San Mateo County Transit District
San Mateo County Transit District
Email

samtransjobs@samtrans.com
Job Openings
There are no job openings.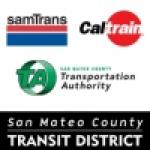 The San Mateo County Transit District is the admin-istrative body for public transit and transportation programs in San Mateo County, California: SamTrans bus service, including Redi-Wheels paratransit service, Caltrain commuter rail service and the managing agency for the San Mateo County Transportation Authority. The District transports approximately 32 million customers a year and is one of the nation's top transit agencies. We look forward to Continuing our leading role in meeting the transportation challenges of the future.

The District is an equal opportunity employer and values diversity among our employees.