Alameda County Public Works Agency
Alameda County Public Works Agency
Job Openings
There are no job openings.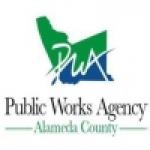 The mission of Public Works is to enhance the quality of life for the people of Alameda County by providing a safe, well-maintained, and lasting public works infrastructure through accessible, responsive and effective services.
Public services provided by the Alameda County Public Works Agency include flood and storm water pollution control, transportation planning and design, roadway and flood control maintenance and inspection, and construction and building inspections.
The goals of the Agency are to keep roads safe and well maintained, provide the highest level of flood protection, provide service levels that optimize infrastructure life cycles, minimize deferred maintenance, ensure that development and construction adhere to applicable State and County rules, optimize disaster preparedness, response and recover, ensure that the Agency's operations and services minimize negative impacts on the environment, and sustain and advance County and Agency programs through a vital business and administrative support system.
For more information about the Alameda County Public Works Agency, please visit their website at www.acgov.org/pwa.