Carmichael Recreation and Park District
Carmichael Recreation and Park District
Email

customersvc@carmichaelpark.com
Job Openings
There are no job openings.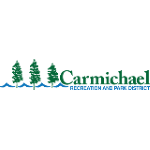 The Carmichael Recreation and Park District, established in 1945 is a dependent special district and chartered by the County of Sacramento to manage park land and provide recreation opportunities to Carmichael and Sacramento County area residents.

District boundaries include a population of approximately 52,000 residents and features 13 park sites; 11 fully developed parks , a 36 acre community center at the former La Sierra High School, a botanical garden that is nearly 50 years old, and 17-acre nature area called Schweitzer Grove.