Email

gmayer@cityofamericancanyon.org
Job Openings
There are no job openings.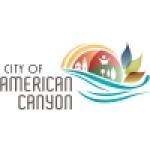 Located at the southern tip of the Napa Valley, the City of American Canyon is known for expansive foothill and bay-side nature preserves surrounding the City, affordable family living and high quality schools. The City is a destination for outdoor recreation and natural beauty, and the Bay Area's entry point to the Napa and Sonoma Valley viticulture districts, areas internationally recognized for producing some of the world's finest wines.
The City of American Canyon is a growing community with one of the region's most diverse populations. More than 80% of residents identify as Asian, Hispanic, African-American or other non-White ethnic group. The City values a wide range of backgrounds, experiences and perspectives when hiring staff to serve our community.
In addition to supporting wine logistics, wine making, storage and distribution, American Canyon also is increasingly home to major food production companies, such as Coca Cola, Barry Callebaut Chocolate and Mezzetta.  With a current population of 20,800 in more than 6 square miles, the City plans for a population of 25,000 by 2025.
American Canyon residents take great pride in their community and highly value the outdoor spaces and trails, numerous parks, and quality schools.  Residents and business owners feel very safe and enjoy the diverse and engaged community.  You and your family will feel safe at home in American Canyon.
Employee Benefits
The City provides a generous benefits package that can be viewed at the City's Website, Human Resources Page.