City of Desert Hot Springs
City of Desert Hot Springs
Email

pmeuse@cityofdhs.org
Job Openings
There are no job openings.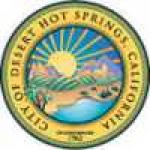 With its elevated views of the Coachella Valley and thousands of acres of gorgeous mountain preserves, Desert Hot Springs is one of the fastest-growing communities in Southern California. Minutes from an international airport, golf, shopping, renowned restaurants, major sporting events and more, this spa destination city beckons visitors and resort recreational developers.

Desert Hot Springs is built over one of the world's finest natural hot mineral water aquifers. Naturally occurring mineral waters bubble and percolate to the surface in this get-away-from-it-all destination. Not surprisingly, spas rule in Desert Hot Springs. You can calm and renew in polished marble resorts, retro-hip motels or ultra-exclusive celebrity retreats. The city also boasts pure and delicious award-winning municipal drinking water.

For a wonderful getaway, or a beautiful, affordable place to live, visit Desert Hot Springs. You'll see why it's "Clearly Above the Rest."