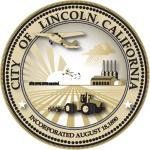 The City of Lincoln is located at the edge of Northern California's foothills, 27 miles northeast of California's State Capital, Sacramento. With a 2016 population of 47,187 Lincoln was one of the fastest growing cities in the country from 2000 to 2007, yet has managed to maintain the small town charm that has made it such a desired location to live, work and play.

Lincoln sprang up as a railroad terminal in the 1800's as the western United States realized massive growth. Today Lincoln continues its agricultural heritage and is also known for its production of clay, lumber and building materials. The world-renowned Gladding McBean & Company, located in downtown Lincoln, is the only remaining major manufacturer of decorative architectural terra cotta in the United States. The plant also produces clay sewer pipe and is one of Lincoln's major employers. Other top employers in the area include Sierra Pacific Industries, Rogers Coffee, RobbJack and Western Placer Unified School District.

Lincoln still retains its small town atmosphere with tree lined streets, quaint shopping and dining and a town square filled with community events throughout the year and has the lowest crime rate in the county. Annual festivities that help contribute to Lincoln's small town charm and appeal include events such as Farmer's Market during the summer, a traditional Fourth of July Parade and celebration, the Tour de Lincoln Bike Ride, a Classic Car Show, Lincoln Showcase a Food and Wine Tasting Event and a Holiday Parade and Tree Lighting Ceremony each December.

Lincoln values its small town atmosphere, yet encourages careful, well-planned growth. Residents and city officials alike share a positive, forward-looking attitude toward expansion for their city with a common goal to foster a progressive business climate while maintaining a desirable balance of employment, housing, commercial, retail and recreational opportunities. A new General Plan was completed in 2008, providing a blueprint for the community and the future growth of Lincoln.

As it continues with its future development, Lincoln insists that new growth is well planned. The City's goal is to maintain its small town atmosphere while bringing to Lincoln a more balanced jobs to housing ratio and an associated diversified and healthy revenue stream.
A City of Opportunity
Our Mission Statement: To provide the highest level of service responsive to our community's expectations and to enhance the quality of life and economic vitality.