Email

cjupp@cityofporthueneme.org
Job Openings
There are no job openings.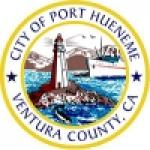 Port Hueneme (pronounced "Wy-nee-mee") is a seaside community in Ventura County, California. Port Hueneme is located 60 miles northwest of Los Angeles and 40 miles south of Santa Barbara. The City has a population of 22,138.

Incorporated in 1948, Port Hueneme has a 5-member City Council which functions as the policy making governmental body. The five individuals serve staggered four-year terms in office, with the Mayor and Mayor Pro-Tem being selected by the City Council each year. City services are structured around five departments: Public Works, Community Development/Housing Authority, Finance, Police, and City Administration/Community Services.

The City of Port Hueneme has seen much dramatic progress since its incorporation. Residents consistently cite the high quality of life offered here due to planned development, excellent public facilities and responsive City services as being primary reasons for choosing to live in the City. A commitment to maintaining high standards for a clean and attractive appearance of the City continues to be a major priority. The importance of preserving and enhancing existing amenities to ensure the long-term health and vitality of the community is recognized as well. The City of Port Hueneme employs 90 individuals on a full-time basis, and has a total budget of approximately $50 million.