Email

cstefani@riverbank.org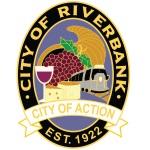 The City of Riverbank is home to approximately 25,000 residents  along  the Stanislaus  River  in  California's Central Valley.  It's a friendly community in an environment  providing an excellent quality of life  for residents while supporting its business community. With outstanding parks throughout the community including beautiful Jacob Myers Park on the riverbank, and its own major retail center, Riverbank is the perfect location for recreation enthusiasts and shoppers alike looking for a variety of amenities as well as accessibility. Riverbank is renowned for its annual Cheese & Wine Festival which started back in 1977 and still attracts crowds every October. Conveniently located just 90 minutes from San Francisco, Sacramento and the gateway to Yosemite National Park, Riverbank is an ideal community to expand your career.

The City of Riverbank was incorporated in1922 and is governed by a City Council-City Manager form of government. The Council is comprised of five members including a Mayor who is elected at-large and serves a four-year term; and (4) councilmembers elected by district to serve four-year terms.  Other appointed bodies include the Planning Commission and the Budget Advisory Committee.

The City Manager serves as the Chief Executive officer overseeing a General Fund Budget of $10.6 million, and leading 48 full-time employees amongst five (5) departments comprised of:  Administration, Finance, Development Services, Parks & Recreation, and the Local Redevelopment Authority.  The City of Riverbank contracts with the Stanislaus County Sheriff for police services and the Stanislaus Consolidated Fire District provides fire services. The City is financially stable with a prudent reserve, and remains prosperous  due to growth opportunities.