Email

sylviae@ci.salinas.ca.us
Job Openings
There are no job openings.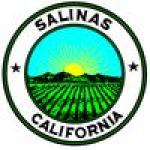 The City of Salinas, population 150,300 is located fifteen miles inland from Monterey Bay, 325 miles north of Los Angeles and 106 miles south of San Francisco. Salinas and the Salinas Valley offer a unique combination of climate, natural resources and people. The City of Salinas was born after Mexico seceded from Spain in 1822 and began granting rancho lands. Named for a nearby salt marsh, Salinas became the seat of Monterey County in 1872 and incorporated in 1974.

Today the Salinas Valley is known as "The Salad Bowl of the World" for the production of lettuce, broccoli, mushrooms and strawberries, along with numerous other crops. The climate is also ideal for the floral industry and grape vineyards planted by world-famous vintners.

Although agriculture forms the economic base, more than 100 manufacturing firms call Salinas home. Salinas' hospitality blends yesterday's charm with today's modern conveniences. The California Rodeo, California International Airshow, and the world famous Steinbeck Festival are major attractions of our colorful and diverse city.