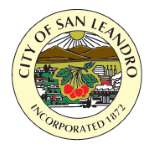 The City of San Leandro is one of the most diverse cities in the nation located at the center of the dynamic San Francisco Bay Area.  A well-established community of close to 90,000 residents, San Leandro is proud of its maintained neighborhoods, excellent public libraries, 21 public parks, quality local schools, and a wide range of shopping, dining, and entertainment options.  San Leandro businesses enjoy multiple advantages including close proximity to the Oakland International Airport and Port of Oakland, two major freeways, two BART stations and access to an educated workforce. The City also encompasses a large industrial area that is home to a thriving advanced manufacturing industry.

San Leandro is also known for its quiet neighborhoods full of charming and unique older houses on tree-lined streets where residents are proud of both their neighborhoods and their City.  This is reflected by their active involvement in the City's numerous neighborhood and homeowner's associations. This East Bay city celebrates a long history and embraces a diverse population while still enjoying a "small town" feel in a larger metropolitan region.

Incorporated in 1872, the City of San Leandro, a Charter City, operates under a Mayor/Council-Manager form of government.  The City Council is made up of members nominated from each of the six districts and elected at large.