East Bay Municipal Utility District
East Bay Municipal Utility District
Job Openings
There are no job openings.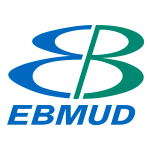 East Bay Municipal Utility District (EBMUD) has a proud history of providing high-quality drinking water for 1.4 million customers in Alameda and Contra Costa counties. The District's award-winning wastewater treatment protects San Francisco Bay and serves 685,000 customers.

Headquartered in Oakland, EBMUD is governed by a seven-member Board of Directors elected from wards within the service area. The Board determines overall policies, which are then implemented under the direction of the Board appointed General Manager. EBMUD employs nearly 2,000 employees at locations throughout the East San Francisco Bay Area, Sacramento, Stockton, Camanche and Pardee Reservoir areas. Explore the different careers paths available at EBMUD with descriptions of skills, experience, education, certifications and licenses needed to move and grow within the organization!

Mission
To manage the natural resources with which the District is entrusted; to provide reliable, high quality water and wastewater services at fair and reasonable rates for the people of the East Bay; and to preserve and protect the environment for future generations.

EBMUD is an Equal Opportunity Employer. All qualified candidates will receive consideration for employment without regard to race, color, religion, creed, sex, gender, gender identity (including transgender status), gender expression, marital or registered domestic partnership status, age for individuals age forty or older, national origin, ancestry, disability (mental or physical), medical condition (cancer and genetic characteristics), genetic information, sexual orientation, military and veterans status, family or medical leave status, pregnancy (including childbirth, lactation or related medical condition), pregnancy disability leave status, domestic violence victim status, political affiliation, and other categories protected by federal, state and/or local laws.