Job Openings
There are no job openings.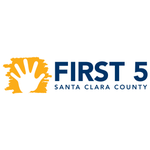 Organization
FIRST 5 Santa Clara County (FIRST 5) makes a difference for children in Santa Clara County by investing millions of Proposition 10 tobacco tax dollars each year toward effective programs in early education, health, and family support. FIRST 5 is committed to achieving real and sustainable community-based results focused on forming a successful future for young children and their families. Our responsiveness to identifying and addressing community needs has made FIRST 5 Santa Clara County a model for the rest of the state. FIRST 5 fulfills its mission to support the healthy development of children, from prenatal through age 5, and enrich the lives of their families and communities by:
Providing intensive, tailored services to children and families experiencing the highest level of need;
Ensuring that effective programs and services are available to our communities' children and families;
Working toward shifting community norms and systems that affect the health and well-being of all young children in the County; and
Practicing sound fiscal and contracting practices to ensure the long-term stability of the organization.
FIRST 5 is a financially stable, transparent and accountable organization that operates an annual community investment budget of $20 million. The majority of our funding (75%) is provided by Proposition 10, with the remaining portion of the
budget comprised of governmental and foundation based grants.