Municipal Pooling Authority
Municipal Pooling Authority
Job Openings
There are no job openings.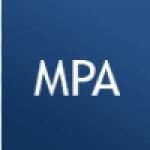 Municipal Pooling Authority was established in 1978 to provide and administer lines of coverage for liability, workers' compensation and property for 13 member cities in Contra Costa County. Membership has grown from the original 13 member cities to the current count of 20, and includes cities outside of Contra Costa Country, but within MPA's serviceable area which is all of Northern California.
In 1983, MPA diversified its offering and began providing employee benefits to its members, including long-term disability, life and dental insurance.
The following year, the liability claims services were brought in house and followed by workers' compensation. As MPA matured and grew, the JPA joined ERMA and CARMA for Employment Liability and excess General Liability coverage.
Risk management services expanded as the years have passed. Most notable were the wellness programs. The establishment of a comprehensive wellness program, Cities Heart @ Work for member employees to be screened for health risks and learn how they can live healthier lifestyles, and the Risk Control program was brought in house to identify and control risk factors and to develop an environment of safety awareness.
Over time, both programs remain very active and have become integral parts of our members' work culture.
MPA continues to strive to serve our membership in a proactive and effective manner and encourages open communication and exchange of ideas between staff, members and the JPA community.