San Carlos School District
San Carlos School District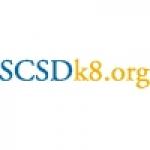 DISTRICT MISSION STATEMENT
The San Carlos School District focuses on providing an innovative and engaging learning experience that fosters the development of the Whole Child to ensure all students are well prepared for success in the 21st Century, as evidenced by: (a) Reaching their highest academic, social, emotional, intellectual, and physical potential; (b) Becoming problem solvers, critical thinkers, risk-takers, designers, collaborators, and innovators; and (c) Developing into contributing, empathic citizens and leaders who are responsible stewards of their world and care about equity and justice, both locally and worldwide.

DISTRICT PROFILE
There are approximately 2800 students enrolled in four Elementary Schools (PS-3), two Upper Elementary Schools (4-5) and two Middle Schools (6-8). 

NEW TEACHER TRAINING
SCSD has an extensive and robust Staff Development Program. We partner with the county office to offer a 2-year Induction program. Pursuant to the SCSD Strategic Plan, professional development is given in Project based Learning (PBL), Technology Infused Learning, Academic Standards and the 5 C's (Critical Thinking & Problem Solving, Communication, Collaboration, Citizenship (global and local) and Creativity & Innovation).