San Ramon Valley Fire Protection District
San Ramon Valley Fire Protection District
Job Openings
There are no job openings.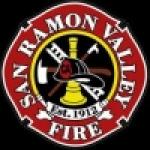 The San Ramon Valley Fire Protection District provides all-risk fire, rescue and emergency medical services to the communities of Alamo, Blackhawk, the Town of Danville, Diablo, the City of San Ramon, the southern area of Morgan Territory and the Tassajara Valley, all located in Contra Costa County. The District's service area encompasses approximately 155 square miles and serves a population of 169,900.
The District maintains nine career fire stations and one volunteer-staffed station, an administrative office building and other supporting facilities all strategically located throughout the jurisdiction. The District staffs fifteen companies, including structure and wildland engines, ladder trucks, ALS ambulances, and specialized Hazardous Materials, Rescue, Communications and other support units. The District also operates its own nationally accredited 911 communications center.
The District's Fire Prevention Division manages several significant community risk reduction initiatives including notable vegetation and hazard abatement programs, plan review and engineering services, and comprehensive code enforcement and fire investigation activities. The Division also produces and delivers numerous programs intended to promote and teach fire safety, CPR/AED skills and emergency preparedness.
Within the boundaries of the District are expansive wildland and recreation areas, large single-family homes and multi-family residential complexes, hotels, a regional hospital and a 585-acre business park. The District is also bisected by a major interstate highway (I-680).
The San Ramon Valley Fire Protection District is an internationally accredited autonomous Special District as defined under the Fire Protection District Law of 1987, Health and Safety Code, Section 13800, of the State of California. A five-member Board of Directors, elected at-large by their constituents and each serving a staggered four-year term, govern the District. The Fire Chief oversees the general operations of the District in accordance with the policy direction prescribed by the Board of Directors. The Fire Chief also serves as the Treasurer for the District.
The major revenue sources of the District are property taxes (93%), ambulance service fees and interest income. Total income for the year ending June 30, 2015 was $61,205,555. The District employs approximately 153 personnel.