Stanislaus Council of Governments (StanCOG)
Stanislaus Council of Governments (StanCOG)
Job Openings
There are no job openings.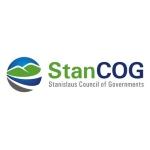 StanCOG is the Metropolitan Planning Organization (MPO) as designated by the federal government, the Regional Transportation Planning Agency (RTPA) as designated by the State of California, and the Local Transportation Authority (LTA) which administers the local Measure L sales tax dedicated to transportation improvements, in the Stanislaus region of northern California.  StanCOG is a public organization that works with local governments and citizens in the Stanislaus region by dealing with issues and needs that cross city and county boundaries.

Established in 1971, StanCOG is a council of city and county governments, comprised of the cities of Ceres, Hughson, Modesto, Newman, Oakdale, Patterson, Riverbank, Turlock and Waterford, and Stanislaus County, which addresses regional transportation issues. It provides the forum that brings local mayors, city council members and county supervisors together to work on regional transportation issues in a setting that promotes the involvement of the public in the planning process for the Stanislaus region.