StopWaste (Alameda County Waste Management Authority & Recycling Board)
StopWaste (Alameda County Waste Management Authority & Recycling Board)
Email

comani@stopwaste.org
Job Openings
There are no job openings.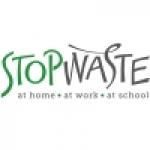 StopWaste is a public agency responsible for reducing the waste stream in Alameda County. We help local governments, businesses, schools and residents reduce waste through:
-Source reduction and recycling,
-Market development,
-Technical assistance
-Public education.

We are governed jointly by three Boards, the Alameda County Waste Management Authority, the Alameda County Source Reduction and Recycling Board, and the Energy Council.