Email

nmoe@marysville.ca.us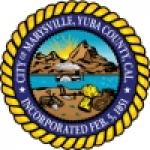 The Community
The City of Marysville (population 12,600) is a unique and charming city located in Yuba County and part of the Greater Sacramento area. Nicknamed the "Gateway to the Gold Fields" and one of California's historic Gold Rush cities, Marysville is a vibrant center of distinctive shopping, dining, and entertainment. A stroll along the City's tree-lined, historic D Street with its cafes, galleries, boutiques, and specialty stores, and you will find everything that Main Street was meant to be. The City's location and proximity to State Route 99 and State Route 70 provides easy access to many of the area's major attractions such as the state capital of Sacramento and the Sutter Buttes.
Residents enjoy hot, dry summers and cool, wet winters – an ideal climate that is perfect for year-round leisure and recreation. Residents and visitors to the City can find one of many festivals, open air markets, or to be serenaded by an eclectic mix of talented musicians. Marysville is home to Ellis Lake, a man-made lake popular for boating, fishing, and feeding geese, that plays host to an annual fishing derby. The Bok Kai Temple, a traditional Chinese temple and historical landmark, is dedicated to the City's Chinese community. Bryant Field, a city-owned baseball stadium adjacent to Ellis Lake, is the home of the Marysville Drakes – a summer collegiate wood-bat baseball team.
Marysville is an easy day trip from the hum-drum of big city life and crowded big box stores. The City's rich history, vibrant downtown, and small-town atmosphere is not only inviting, but offers a unique experience to all who come to live, work, and play.
The Organization
Marysville is a charter city operating under the Council-Manager form of government. The five-member City Council consists of a Mayor and four Council Members, elected to serve four year terms.
Marysville is a full-service city and provides services through six departments that include the City Manager's Office, Community Development, Finance, Fire, Police and Public Works. City-wide services are delivered with the assistance of more than 60 full-time staff and a General Fund budget of nearly $14.3 million for FY 2022-23.